Everyone wishes for a stunningly beautiful smile. A straight and bright set of teeth that they will be proud to show to the world and that people will remember them for. Veneers are one of the options to create such a smile in a fast and convenient fashion. However, traditional veneer placement usually requires the removal of tooth structure which makes the procedure irreversible. That means you have to weigh between keeping your natural teeth intact and the improvement on your smile.
Durathin veneers are one of the biggest breakthroughs ever in achieving the smile that you've always wished for without having to sacrifice your tooth structure.
Can you imagine your smile being fuller, straighter and more charming without any harm to your natural teeth?

Let us introduce to you the ultrathin Durathin veneers that do not require the dentist to grind, cut or file down any tooth structure in the process. Although in certain cases, minimal reduction of the tooth surface may be required but it is still a lot less than what traditional veneers need. These no-prep veneers are regarded by the dentists who place them as a viable and highly esthetically pleasing alternative to traditional veneers for specific cases.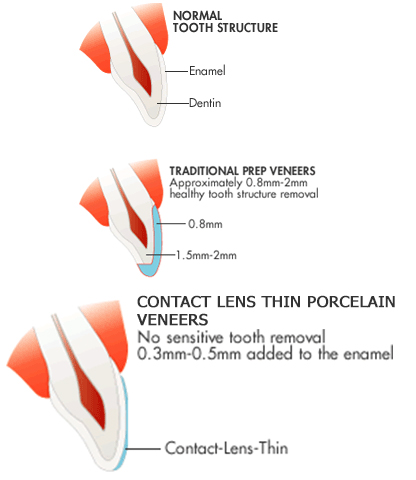 The new DURAthin veneers, developed by Dr. Dennis Wells and dental lab technician Mark Willes, are changing the way many dentists are approaching cosmetic dentistry. This revolutionary approach eliminates some of the concerns you may have about removing healthy tooth structure. The contact lens-like veneers are bonded directly to the tooth in instances where we are trying to increase the size of the teeth or enhance a narrow arch width. This means that for some people, when their teeth are the candidates, we can transform their smile without even drilling on their natural teeth!
There are many ways to approach cosmetic dentistry. Perhaps you've seen some smiles that are obviously created by a dental technician, and look fake or contrived. In contrast, DURAthin veneers can create a beautiful, confident smile that looks real and natural. The secret lies in artistically designing the shapes of the veneers, in layering the porcelain so it looks natural, and in selecting the appropriate techniques so the end result does not look thick or bulky.
People with worn down teeth, narrow smiles or gaps between teeth can now transform their smiles into the dazzling ones with this fast, long-lasting and non-invasive Durathin. No more self-consciousness, no more hiding but only straight and beautiful smiles that will enhance your confidence. The smiles that you can impress the world with. To find out if you are a good candidate for DURAthin veneers,
contact us
to schedule a thorough diagnostic visit. Your shining, straight smile is waiting!