In House & International X-Ray Service.
X-Rays are a vital part of any quality dental service and here at the Smile Republic our service is the very best available in Bangkok and we provide the latest x-ray technology as below:

A lot of technological terminology, but what does it all mean?

X-Rays are a vital part of any quality dental service and here at the BANGKOK SMILE DENTAL CLINIC our service is the very best available in Bangkok. In particular, our international X-Ray Service brings the most convenient dental service to patients living in Australia. We are proud to announce that we have a strong partnership with dental clinics on the mainland, including Queensland, Victoria, New South Wales, Western and Northern territories. For our international clients, if you are planning to visit Thailand for your dental treatment, you can contact us via email beforehand. Then, we will advise you of the closest clinic to you for your convenience. Our partners will have your X-Ray taken and then forward those X-Ray records to us so we can see your dental problems and make a full appraisal of your case before you actually arrive in Bangkok. This will ease the steps of diagnostics and treatment preparation, as well as giving you the opportunity to know and fully understand the cost involved allowing you to make an informed decision as to the treatment you decide upon. This is just one part of Smile Republics' 'open and informed' policy to our clients. We utilize and work with OPG imaging, Lat Seph and CBCT scans. These are the most up to date methods for dental diagnostics and all our dentists are fully trained and well versed in the use of these technologies.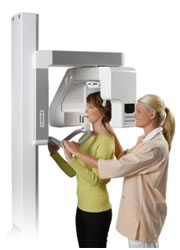 A lot of technological terminology, but what does it all mean?
OPG, or Orthopantomogram are special x-rays of the lower face, teeth and jaws. An OPG provides us with a panoramic view of the mouth, teeth and bones of the upper and lower jaws.

OPG procedure.
Our BANGKOK SMILE DENTAL CLINIC expert may ask you to remove jewellery, eyeglasses, and any metal objects that may obscure the images. You will be asked to stand with your face resting on a small shelf and to bite gently on a sterile mouth piece to steady your head. It is important to stay very still while the x-ray is taken. This is a totally noninvasive procedure you will not feel any discomfort during the procedure.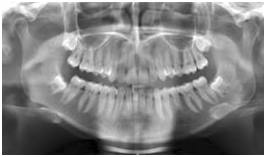 Lat Ceph, or Lateral Cephalometric Radiograph is a lateral or side view x-ray of the face, which demonstrates the bones and facial contours in profile on a single film. Lat Ceph x-rays are usually used in the diagnosis and treatment of orthodontic problems.

Lat Ceph procedure.
The precautionary procedure is similar to that of OPG imaging, you will then be asked to stand with your head against the machine so that it can be adjusted for your comfort. A pair of cone shaped plastic supports are then gently positioned in each ear, rather like a pair of headphones. This aligns both ears to ensure that an exact side view of the face is obtained and as with an OPG you will not feel any discomfort during the procedure.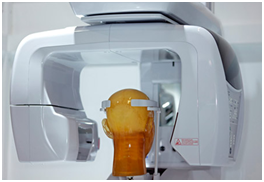 CBCT scan
CBCT scan. Cone Beam Computed Tomography ( CBCT ) is the most up to date scanning technology available and at Smile Republic we embrace this and use it to the best advantage for our clients. So what exactly is it? Well first we need to look at CT.

Computed tomography (CT) imaging, also referred to as a computed axial tomography (CAT) scan, is a system the uses rotating x-ray equipment, combined with digital computing, to obtain images of the body. Using CT imaging, cross sectional images of body organs and tissues can be produced. There are numerous other imaging techniques but CT imaging has the unequaled advantage of offering clear images of different tissue types. CT imaging can provide views of soft tissue, bone, muscle, and blood vessels, without sacrificing clarity. The clarity and detail has obvious advantages in diagnostics which leads to better, more effective treatment to our clients. Other imaging techniques deliver more limited and restricted images which can hamper the diagnostic process. CBCT is an evolutionary step further which helps to ensure that your diagnosis and treatment at Smile Republic is of the highest standard.

In layman's terms, CBCT is a compact, faster and safer version of the regular CT. Through the use of a cone shaped X-Ray beam, the size of the scanner, radiation dosage and time needed for scanning are all dramatically reduced. A typical CBCT scanner is an unobtrusive piece of equipment that is perfectly suited to our dental surgeries and is easily accessible by patients. The time needed for a full scan is typically under one minute and the radiation dosage is up to a hundred times less than that of a regular CT scanner.

CBCT Scan procedure. You will be invited to sit in the exam chair or lie down on the exam table, depending on the type of cone beam CT scanner being used. Our Smile Republic dentist or oral surgeon will position you so that the area of interest is centered in the beam. You will be able to relax but will be asked to remain very still while the x-ray source and detector revolve around you for a 360-degree rotation or less, dependent on the requirements. This typically can take between 20 to 40 seconds for a complete volume, also called a full mouth x-ray, in which the entire mouth and dental structures are imaged, and less than 10 seconds for a regional scan that focuses on a specific area of the maxilla or mandible. We at Smile Republic have superlative experts that are highly skilled in the use of all the modern methods of oral imaging, and by maximizing the benefits of the very best technology available we are able to produce diagnostic results that cannot be surpassed anywhere in Thailand. This all equates to a service for our clients that is unparalleled by any other dental practice.