Denture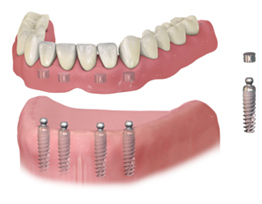 Dentures are used as an alternative to bridges and implants and can be used to replace groups of teeth or an entire set. At the center of excellence, which is BANGKOK SMILE DENTAL CLINIC there may be occasions when dentures are the recommended, or client preferred, course of treatment. Or a client with existing dentures may wish to have a better set of quality made dentures. Either way our hi-tech laboratory and our dental experts can furnish a client with dentures of ultimate quality, comfort and function.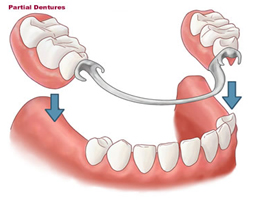 BANGKOK SMILE DENTAL CLINIC complete dentures are made with a gum colored acrylic base and plastic or porcelain teeth. The base material comes in a variety of shades and characterizations. The teeth are made in a variety of shapes, sizes and colors. There are times when a metal reinforcement is appropriate to help minimize fracture of the denture. The reinforcement is often a chrome-cobalt alloy or stainless steel.

Partial dentures are fabricated with the same materials, except that there is often a chrome-cobalt framework for strength and retention. In all-acrylic partial dentures stainless steel clasps may be used for retention.
There are also types of flexible materials that allow for the fabrication of strong, flexible and comfortable partial dentures. Unfortunately, they are often difficult to repair or to make additions to the teeth.

Complete or full dentures
BANGKOK SMILE DENTAL CLINIC complete dentures replace all the teeth in the upper or lower jaw. A denture helps you to properly chew food, a difficult task when you are missing teeth. In addition, a denture may improve speech and prevent a sagging face by providing support for lips and cheeks. This improves your overall facial appearance and your self-confidence.

Overdenture
Our overdentures are dentures that utilize precision dental attachments to hold the denture down. The overdenture attachment can be placed in tooth roots that have been saved, or placed into dental implants which have been placed to receive them.

Immediate dentures.
Immediate dentures are constructed before the clients teeth are removed so that you will not be without any teeth. Constructing immediate dentures involves taking impressions (making copies) of your mouth before the teeth are removed. When your remaining teeth are removed the denture can be inserted immediately. This gives you an instant new look with reduced lifestyle inconvenience.

Partial denture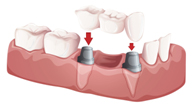 At BANGKOK SMILE DENTAL CLINIC we can produce a partial denture which is a removable dental appliance that replaces multiple missing teeth. It can be attached to the teeth with clasps (clasp or conventional partial) or it can be attached to the teeth with crowns with precision attachments (hidden clasps). Both types have a metal framework and plastic teeth and gum areas.

Advantages, Disadvantages and maintenance of Dentures
Advantages :
- Dentures create and aesthetically natural looking smile.
- They have extraordinary durability.
- Well maintained dentures, can easily last up to to ten years.
- In many cases dentures can correct problems from speech to chewing.

Disadvantages :
- For some clients wearing dentures can take a little time to get adjusted to.
- In the early days, some clients may have experience problems with their speech.
- It is possible that a client may experience mouth irritation or sores. This can are be caused by the new denture, inappropriate dental hygiene or not removing the dentures when required.
- Chewing efficiency can be reduced to15-23% compared to the chewing efficiency of natural teeth, due to the force of the chewing action not going directly to the bone.
- With a full upper denture, the upper palate is fully covered, this can the way in which you taste your food.

Repairing your Dentures
A partial denture can break, crack or chip, it can become loose. Should this happen contact BANGKOK SMILE DENTAL CLINIC immediately. Never attempt to make repairs yourself. With our plethora of expertise our expert dentists can usually repair a broken denture, often on the same day.
It is vitally important to consult your BANGKOK SMILE DENTAL CLINIC expert if any of your dentures breaks whilst eating. This may indicate that there has been an alteration in the fit of your dentures due to changes in the underlying tissue. While our expert dentist repairs your denture, he or she will also undertake a full examination of your mouth to ascertain as to whether any adjustment of the denture is required.

How to care for your dentures.
BANGKOK SMILE DENTAL CLINIC dentures are made to be extremely strong and durable. However accidental damage is possible. You can easily reduce the risk of damage by following a few simple guidelines.

Handle dentures with great care.
If dentures are accidently dropped, mishandled or impact a hard surface they can be damaged chipped or cracked. You can limit the risk of accidental damage by standing over a folded towel or a sink full of water whilst handling or cleaning your dentures.

Brush and rinse dentures daily.
It would be automatic for you to brush your natural teeth, it should be no different for dentures. Daily brushing will remove food deposits and plaque and help to prevent the build up of hard to remove stains. It is important to use a specifically designed brush with soft bristles for cleaning your dentures. Never use any hard or abrasive cleaning tools or agents, doing so could irrevocably damage the surface of the dentures. All the surfaces of the denture should be gently brushed with care not to damage the plastic or bend any of the fixing attachments. Your dentures should rinsed after every meal.

Clean with a denture cleaner.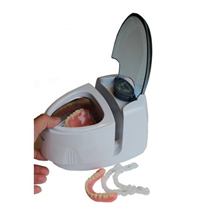 Hand soap or mild dishwashing liquid can be used for cleaning dentures. Household cleansers and many toothpastes may be too abrasive for dentures and should not be used. Also, avoid using bleach, as this may whiten the pink portion of the denture. Ultrasonic cleaners can be used to care for dentures. These cleaners are small bathtub-like devices that contain a cleaning solution. The denture is immersed in the tub and then sound waves create a wave motion that dislodges the undesirable deposits. Use of an ultrasonic cleaner, however, does not replace a thorough daily brushing. Products with the American Dental Association (ADA) Seal of Acceptance are recommended since they have been evaluated for safety and effectiveness.

Denture care when not being worn.
Your BANGKOK SMILE DENTAL CLINIC dentures need to be kept moist when you are not wearing them, this is so they do not dry out which can cause the denture to warp or lose shape. When you are not wearing your dentures they should always be kept submersed in a recommended denture cleansing solution or in water. However, it is possible that metal attachments could tarnish if placed in an unsuitable soaking solution. Your BANGKOK SMILE DENTAL CLINIC dentist will advise and recommend the best methods for caring for your dentures. Never put your dentures in hot water as it can cause them to warp and lose their shape.

Will My Dentures Need to Be Replaced?
Over time, dentures will need to be relined, rebased, or remade due to normal wear, natural age-related changes to the face, jaw bones, and gums, or if the dentures become loose. To reline or rebase a denture is a straight forward procedure. Our Smile Republic dentist or prosthodontist will refit the denture base or make a new base and reuse the existing teeth. Generally speaking, complete dentures should last for five to seven years before replacement becomes necessary.

How Should I Care for My Mouth and Gums if I Have Dentures?
Even with Smile Republics' full dentures, it is important to brush your gums, tongue, and palate with a soft-bristled brush every morning before putting in dentures. This removes plaque and stimulates circulation in the mouth, vital for your overall oral health. Pay special attention should be given to cleaning the teeth that fit under the denture's metal clasps. Plaque can easily become trapped under the clasps and this will increase the risk of tooth decay. If you wear a partial denture, it is necessary to remove it before brushing natural teeth. If you wear dentures it is important to clean, rest, and massage the gums regularly. A daily rinse with lukewarm salt water will help clean the gums. Be aware of your diet, eat a balanced diet to maintain nutrition and a healthy mouth.

How Often Should I See My BANGKOK SMILE DENTAL CLINIC Dentist if I Have Dentures?
With natural teeth or dentures, your BANGKOK SMILE DENTAL CLINIC dentist or prosthodontist will advise you about how often to visit, but every six months should be the norm. Regular dental visits are important so that dentures and the mouth can be examined for proper denture fit can be maintained. Our experts will also look for signs of oral diseases including cancer, and undertake professional cleaning. A regular visit to BANGKOK SMILE DENTAL CLINIC is a prudent decision for your overall health, after all prevention is better than cure.